Breakfast 7:40 a.m. - 8:10 a.m. (cafeteria doors close at 8:00 a.m.)

Take in time 8:00 a.m.

Tardy Bell 8:15 a.m.

Dismissal for bus & van riders 3:00 p.m.

Dismissal for walkers 3:05 p.m.

Dismissal for car riders 3:10 p.m.
*Students should not be on campus before 7:40 a.m. For your child's safety, please do not drop them off unattended. Teachers will not be on duty until 7:40 a.m. to monitor students
After School Care
*Robbins School does not provide after school day care services for students, but day care programs run early morning and after school van services for parents of students needing such services.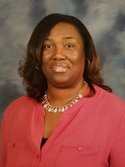 Main Telephone Line: 251-221-1600
Top: Girls
Navy blue polo or an official Robbins T-shirt
Bottom: Girls
Khaki Skirt, Jumper, Skort, Pants or Uniform Shorts
Top: Boys
Navy blue polo or an official Robbins T-shirt
Socks: Girls

White Crew Socks (No ankle socks)
Socks: Boys
White Crew Socks (No ankle socks)
Shoes
SOLID Black shoe. No other colors should be on the shoes. No boots allowed.
---
Outerwear: Male/Female
SOLID Navy Jacket, Sweater, and Sweatshirt **Note: Students may wear heavy coats/raincoats if needed as they walk to school, but if the coats are not approved navy uniform outerwear the student will be required to remove the coat upon entering the building.
---
Additional Notes
The faculty and staff strongly encourage and require that students strive to keep shirts and blouses tucked in and belts on at all times. Jewelry that is a distraction is prohibited. Disciplinary action may be taken if proper uniform is not worn to school. Please start out the new school year with the correct items and the rest of the year will be easier. Call the office if you have any questions at 221-1600.